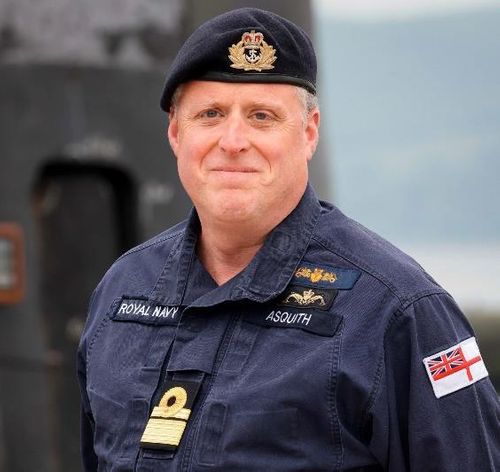 Rear Admiral Simon Asquith CB, OBE
Director Submarines, Navy Command
,
Royal Navy
Born and educated in West Yorkshire, Simon Asquith joined the Royal Navy as a Warfare Officer in 1990, spending most of his early career at sea. Qualifying as a submariner in 1995, a series of junior officer's appointments followed where he served in diesel electric, nuclear attack and strategic deterrent submarines, including a fascinating 2-year exchange with the Netherlands' Submarine Service. Having successfully completed the Submarine Command Course or 'Perisher' in 2003 he went on to Command both the nuclear attack submarine HMS TALENT and, on promotion to Captain, the Frigate HMS PORTLAND, as Captain of Anti-Submarine Warfare for the Fleet. These periods in command included a range of national and coalition operations, extended deployments and major exercises.
Staff tours have included periods as a Force Generator in the Ministry of Defence's Operations Directorate, Assistant Director for the Higher Command and Staff Course, and Deputy Commander to the UK's Maritime Component Commander in Bahrain. On promotion to 1*, he was the Chief of Staff at the deployable Standing Joint Force Headquarters. On promotion to Rear Admiral in 2019 he was assigned as Commander Operations (COMOPS), the standing commander responsible for the planning and execution of Royal Navy operations globally. He is a graduate of Advanced Command and Staff Course, Higher Command and Staff Course and US CAPSTONE.
In 2022 he was assigned as the first Director Submarines, responsible for all submarine in service capability and availability, including oversight of the Submarine Flotilla and Clyde Naval Base.